Amnesty International and the International Museum of Human Rights at San Diego are pleased to announce a free public screening of the Academy-Award-winning documentary film Taxi to the Dark Side on Sunday, March 1 at 1:00 pm at the Mission Valley Library, 2123 Fenton Parkway in San Diego.   Professor William Aceves of the California Western School of Law will be our special guest, providing a short intro to the film as well as conducting a Q&A session with the audience afterward.  Refreshments will be provided.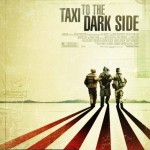 What:  Free screening of Taxi to the Dark Side
When: Sunday, March 1, 2015 at 1:00 pm
Where: Mission Valley Library, 2123 Fenton Parkway
This brilliant, landmark film by acclaimed director Alex Gibney examines US torture policy and the suspicious death in US custody of a young Afghan taxi driver, along the way delving into many of the abuses of power by government officials revealed by the recent Senate Intelligence Committee report on CIA torture.   The film mixes archival footage with interviews of US military interrogators, prison guards, officers, government officials, journalists, attorneys and torture victims, among others.  Taxi to the Dark Side won an Academy Award for best documentary feature.
Professor Aceves is the author of Anatomy of Torture and has previously worked with Amnesty International on a number of occasions, including authoring an Amnesty report on the US's history of providing shelter to torturers fleeing justice in their home countries.
Please note that the film is rated R and anyone under 17 must be accompanied by a parent or adult guardian.  Some people may find some of the images in the film disturbing or offensive.
"If recent American history is ever going to be discussed with the necessary clarity and ethical rigor, [Taxi to the Dark Side] will be essential." — A.O. Scott, New York Times