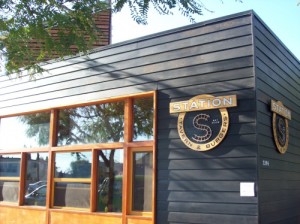 The Station Tavern and Burgers, where AI Group 137 meets the 2nd and 4th Mondays of each month from 7:00 – 9:00 pm, is located at 2204 Fern St. in the South Park neighborhood of San Diego. The Station is closed to the public on Mondays, but the owner has generously allowed our group to meet there.
At our meetings, we usually write letters on two Urgent Actions and then discuss our future events and plans.  We provide the letterheads, envelopes, stamps, and pens, so you don't need to bring anything with you other than your compassion and determination to help people around the globe who have suffered grave human rights abuses.
Street parking around The Station is generally plentiful on Monday evenings.  Just ignore the Closed sign and come on in the front door (on the Ivy Street side) and join us.  Remember:  write a letter, save a life!